Barbed Wire
Detailof Barbed Wire
1.Materials:High Quality low carbonsteel wire,PVC wire with the colors of blue,green and yellow,etc.
2. and characteristics:Twistingand weaving.
3.Surface treatment:
hot dip galvanized
electro galvanized zinc
PVC coated
4. number of the strand& WeavingType:
single and double
Single twist, double twist and tradition barbed wire.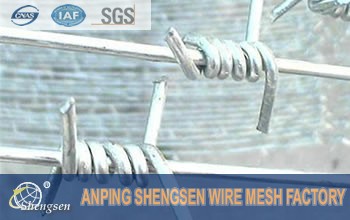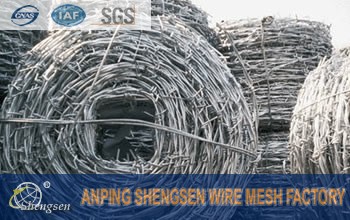 Features:
* Barbed wire has the feature of extremely difficult to cut and hard to climb.
* Barbed wire is very strong and reinforced with a steel coil which makes it very hard to bend, while the barbs have a piercing and gripping action.
* Barbed wire enjoys good appearance

Barbed Wire Specification
Type
Wire Gauge (SWG)
Barb Distance (cm)
Barb Length (cm)
Electric Galvanized Barbed Wire; Hot-dip zinc plating barbed wire
10# x 12#
7.5-15
1.5-3
12# x 12#
12# x 14#
14# x 14#
14# x 16#
16# x 16#
16# x 18#
PVC coated barbed wire; PE barbed wire
before coating
after coating
7.5-15
1.5-3
1.0mm-3.5mm
1.4mm-4.0mm
BWG11#-20#
BWG8#-17#
SWG11#-20#
SWG8#-17#
PVC PE coating thickness: 0.4mm-0.6mm;
different colors or length are available at customers request.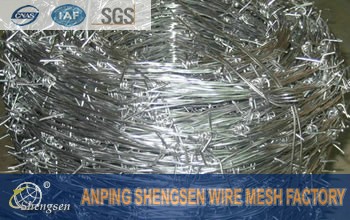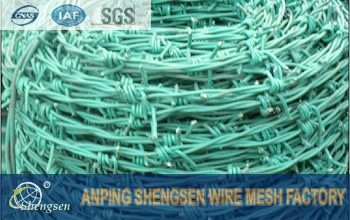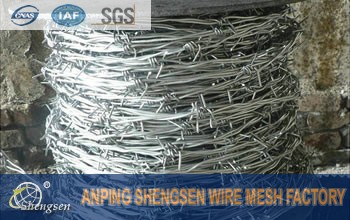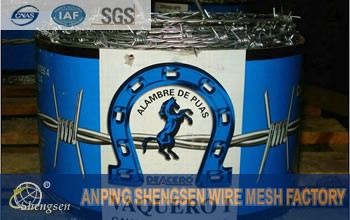 Application:
1.AnimalProtection: Feed sheep, Cattle, Deer, Horse and pig.
2.GrasslandConstruction: Protect your natural environment;
3.Agriculture:Provide a safe place for your farm;
4.Homeand Garden: Supply a safe and beauty environment for your dear family;
5.Widelyused in military affairs,prison,government,bark;
6.Livingwall, personal house, villatic wall, window, autobahn, railway and border ofthe fence.
Packing: In coils, wooden or steel pallet, carton box, or as customer's requirement.